Leaders in Atomic Force Microscopy since 1990
Advanced Surface Microscopy, Inc is your source for all your Atomic Force Microscopy needs: Analytical services, repair, equipment, and supplies. Our products and services include:
Repairs and upgrades for your NanoScope AFM system.
Our experienced technicians can make a wide variety of repairs to NanoScope AFM systems. We have an extensive supply of replacement parts, including for systems no longer supported by the manufacturer. In addition we can provide new AFM control PCs.
Used and Refurbished NanoScope AFM Systems
We buy and sell used AFM systems including STM, small sample AFM, Multimode, Dimension 3000, Dimension 3100, and Dimension 5000 NanoScope systems. All systems are refurbished and thoroughly tested before shipment and are covered by our standard warranty.
Consulting, Expert Services, and Training.
We are experts in the field of Atomic Force Microscopy. Want to get the best out of your system? We can help. Our experts can answer questions and provide training in NanoScope operation and understanding of NanoScope images and the variety of imaging modes available. This includes providing expert testimony in legal cases.
Calibration Samples, Measurement Software, and other Supplies
We provide supplies for use with your own AFM systems. This includes a wide variety of calibration references and standards with standards traceable to the International Meter. We provide a variety of different types of AFM probes. We also provide our own DiscTrack Plus Media Measurement System, originally developed for the optical disk industry, but also valuable wherever the size, shape, and spacing of grids and arrays of microscopic structures is important.
Analytical Services
We offer our own services as experts in the field to analyze your samples in our in-house AFMs. We can apply our extensive range of analytical techniques to solve problems in understanding your samples, how their surface structure affects their function, to help you solve problems, shorten development times, and improve quality. We've worked with many industries and helped many people and businesses. We can help you too.
Want to see if we can help? Then Contact Us.
About our Company
Corporate Profile
Advanced Surface Microscopy, Inc. provides several types of products and services:
In all of these areas, our main focus is AFM and related SPM (scanning probe microscopy) techniques.
Our customers are located throughout the world. Most work in industry, government facilities and universities as scientists, engineers and manufacturing technologists. Some are independent consultants or attorneys working on Intellectual Property matters (IP). Some are company owners, department heads, finance agents, or material managers seeking to convert idle assets (such as used scientific equipment) into cash.
Regardless of the work environment, the common theme of our interaction is the application of Atomic Force and Scanning Probe Microscopy to get answers and solve problems. We have helped customers who work on a very wide range of technologies, materials, processes and research topics. The scope of applications is so broad that:
Any surface you can touch is a potential candidate for study.
Any manufacturing industry can potentially benefit from Atomic Force Microscopy (AFM).
Our Skilled Technical Staff:
All technical work is supervised by Dr. Donald A. Chernoff. Dr. Chernoff holds a Ph.D. in Physical Chemistry (University of Chicago) and has more than 30 years industrial research experience; he has been active in the field of scanning probe microscopy since its development in 1986. His significant contributions in the area of laser spectroscopy and optics, electron microscopy and the practical application of microscopy to process improvement have resulted in over 50 publications and patents.
David Burkhead, has a B.S. in Physics (University of Akron) and has been providing distinguished SPM analysis and software development at ASM since 1997.
Raleigh Tolliver Senior Electronics Technician
Jon Goldman Director of Sales and Marketing
Our Experience
Any surface that you can touch can, in theory, be examined by the AFM. Since 1990, we have provided more than 1000 analytical projects for more than 200 customers, examining more than 100 types of materials and devices.
We are especially proud of two contributions to microscopy and materials analysis:
In November 1994, ASM became the first lab outside of Digital Instruments to make a tapping mode phase image and to recognize that it was important for materials analysis in general. ASM was the lone proponent of this new technique for about 1 year and pioneered many applications of phase imaging.
ASM invented a general method for making high precision and high accuracy measurements from images such as AFM images. Patents were issued in 1997 and 1998. DiscTrack PlusTM is based on this invention and quickly became the gold standard for measuring track pitch variation in optical discs.
Our laboratory is well-equipped.
We currently use: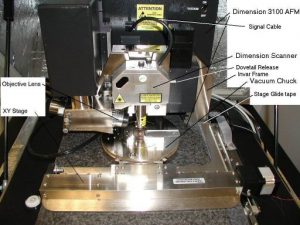 Digital Instruments NanoScope IIIa, with Dimension 3100 large sample stage and phase extender module. We have the ability to do newer methods, such as phase imaging, tapping in liquid, surface potential, electric/magnetic field gradient, force modulation, nano-indentation and nano-scratching and force volume imaging.
Veeco/Digital Instruments NanoScope IV with Dimension 3100 AFM and a full set of electrical application modules including Scanning Capacitance and Conductive AFM (TUNA, C-AFM, SSRM) covering the current range from picoamps to 10s of microamps (pA to µA).
Bruker/Digital Instruments NanoScope V with Icon AFM which allows us to do phase imaging, tapping in liquid, surface potential, and other techniques available in the NanoScope IIIa system but also allows PicoForce imaging and PeakForce QNM (Quantitative NanoMechanical) imaging.
ASM's high-precision calibration and measurement software
Highly accurate, traceable calibration standards
Various other optical microscopes and general lab equipment
Speedy Response:
Many projects are completed within one week and overnight analysis is available.
Secrecy:
All work is handled confidentially. We will be happy to sign your non-disclosure agreement.
Miscellaneous services:
Consultation at your location and expert testimony are available.
Basic and Advanced SPM training available at your facility or ours.
(For services at your facility, we require a one day minimum fee at our established rate, plus expenses.)
You already have an AFM?
Clear your backlog by sending us overflow work
Focus on your research by referring service requests to us
Check out our line of SPM software enhancements
Buy probes in smaller quantities, or practice grades for training and testing
Utilize the latest capabilities at our lab to see if they can help you make your SPM more effective
Call us for advanced training or expert consultation
Browse our unique and useful supplies and accessories.
Replace or upgrade your AFM PC.
Testimonials
What Customers Say about our new AFM Control PCs.
"The PC you provided helped us get our AFM working again. Your technical knowledge regarding board-controller matching saved us money."
Louis S., a State University located in Western US
What customers say about our used equipment:
"I thought the AFM purchased by Molecular Reflections was an excellent
instrument. No surprises. I also think that you and your colleagues wanted
us to succeed, not only in the getting the instrument functioning but beyond,
in terms of guidance for techniques and such. I would highly recommend
Advanced Surface Microscopy as a source for renewed equipment."
Dr. Boyce Collins, USA.
---
"I always thought it was a great idea to have a company that sells
used SPM equipment. Advanced Surface Microscopy provides an
excellent service to the SPM community with its products."
Prof. Ricardo Garcia, CSIC-Madrid Microelectronics Institute, Spain.
Our Customers say: DiscTrack Plus Improves Quality, Saves Time, and Saves Money
"DiscTrack Plus is now considered the standard measurement for track pitch variation in our company."
Mark van der Kerkhof, Toolex, The Netherlands. 1996.
---
"DiscTrack Plus provides an unbiased verification of track pitch and track pitch variation. We have shipped over 100 million high quality DVDs worldwide since 1997."
Dom DallaVerde, Warner Advanced Media Operations (WAMO), USA. 2000.
---
"We have been using DiscTrack Plus to analyze AFM images of DVDs. We use the jitter analysis and statistical results for pit geometry. The measurement results for lengths, widths, and angles have helped us solve problems and avoid problems. For example, we discovered and corrected bad optical alignment of the laser beam recorder. We corrected molding processes by checking replica pit shapes, comparing the inner area to the outer area.
"DiscTrack Plus saves our company money because it gives us a better idea of pit shape earlier in the production process. You don't need to mold the disc and see the electrical data. DiscTrack Plus saves money in two additional ways.
It saves analysis time by giving you a faster and safer answer thanks to statistical data
The technical information is valuable."
Xavier Font, Pioneer, Spain. 2001.
---
"The most valuable diagnostic tool we have is the AFM with DiscTrack Plus. The detail and richness of the pit geometry measurements is amazing and extremely valuable."
Fritz Andrewlevick, Technicolor, USA. 2002.
---
"Your measurement of our stamper gave us very important information about track pitch accuracy. Your system is amazingly good. It is a very effective and valuable tool for process improvement."
Kazuhiko Sano, Matsushita/Panasonic, Osaka, Japan. 2002.
---
===
Due to the dynamic nature of the disc industry, some people have moved and some companies have changed names. The company names and affiliations were current at the time of the quotation.
Let us help you too. Contact us.